Activities and Events
Annual Chatham Arch Neighborhood Block Party will be Saturday, Sept. 29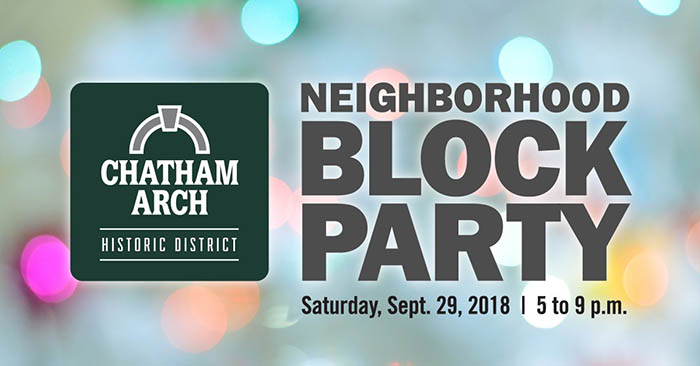 Mark your calendar for the Chatham Arch neighborhood block party, 5 to 9 p.m. on Saturday, Sept. 29, at the Firefighters Union Hall Parking Plaza (corner of East St. Clair Street and College Avenue).
This family-friendly event is open to all Chatham Arch residents. There will be yard games, door prizes, a silent auction and live music (some really good live music! – details to come) throughout the evening.
The Chatham Arch Neighborhood Association will provide grilled hamburgers, hot dogs and veggie burgers, along with buns, condiments, water, tableware, tables and chairs.
Please note that the cookout is BYOB.
Attendees are asked to bring dishes to share based on the first letter of their last name as follows:
A-H – Side dish (vegetable, casserole, appetizer, etc.)
I-M – Dessert
N-Z – Salad
NOTE: For planning purposes, please RSVP to Susan Grant – susangrantp51@gmail.com by Sept. 22 and indicate how many are attending.
Thanks, and hope to see you on Sept. 29!
Always something fun/interesting to do!
Located in the heart of downtown Indianapolis, the Chatham Arch historic district offers an endless variety of events, both within the neighborhood and in the nearby area.
Need to exercise? Within walking distance of Chatham Arch, you will find the Monon Trail and the Cultural Trail for walking, jogging, biking, or rollerblading, the YMCA at the Athenaeum, and a yoga studio. These are more great places to meet your downtown neighbors.
Like to eat?   Join the Chatham Arch Out to Dinner Club which meets monthly at a new or interesting restaurant in the area. It's a great way to meet your neighbors and check out the great establishments on Mass Ave and nearby.
CANA traditionally hosts an annual block party and yard sale and other social events.  You can keep informed about events in and around the neighborhood by joining the Chatham Arch Neighborhood Association.
Also, check the Chatham Arch events section on our Facebook page. View the Chatham Arch Facebook page.